LUXURY TOILET TRAILER FOR EVENTS
The Moveep Plus 4 trailer is the ideal solution to bring luxury toilets to events that require a glam touch in addition to elegance and functionality, such as weddings, private parties, exclusive events, backstage for concerts and shows.
SMART FEATURES TURN MOVEEP INTO MUCH MORE THAN A MOBILE TOILET:

INTERIORS
Gold or Design, for him and for her. The Moveep Plus 4 interiors are available in two versions, Gold and Design, to meet the most diverse needs and best match the various settings.

OPERATIONS
Moveep Plus 4 can be set up for use with connection to the water mains or in complete autonomy with a clean water sanitation system. In both cases, Moveep Plus 4 has a drain with a vacuum pump, which ensures minimum water consumption even for extensive use.
INTERNI
Gold e Design, per lui e per lei. Gli interni di Moveep Plus 4 sono disponibili in due versioni, Gold e Design, per rispondere alle più diverse esigenze e sposare al meglio i vari contesti.
FUNZIONAMENTO
Moveep Plus 4 può essere predisposto per l'utilizzo con allacciamento alla rete idrica oppure in completa autonomia con sistema di igienizzazione ad acqua pulita. In entrambe le versioni Moveep Plus 4 dispone di uno scarico con pompa a sottovuoto che assicura, anche per un elevato numero di utilizzi, un consumo minimo di acqua.
DESIGN INNOVATIVO
Il look glamour di Moveep Plus 4 è dato dal suo elegante colore nero opaco, che gli permette di inserirsi in qualsiasi contesto, arricchendo ogni ambiente con il suo stile inconfondibile.
PLUS
Rubinetteria a fotocellula.
Filodiffusione.
Climatizzatore con pompa di calore.
Illuminazione LED.

INNOVATIVE DESIGN
The glamorous look of Moveep Plus 4 is given by its elegant matte black colour, which allows it to fit perfectly into any location, enriching the surroundings with its sleek style.

PLUS
Photocell sensor taps.
Background music.
Air conditioning with heat pump.
LED lighting.

Sebach
Exclusive and refined design
Our favorite
Exclusive design, sophisticated finishes and innovative technologies make Moveep the ideal solution to bring luxury toilets to events that require a touch of glam.
Comfort and privacy at the highest level
The luxury trailer Moveep 4 Plus can reach all the most exclusive locations and make available on-site sanitary facilities with high-quality standards.
Weddings and private occasions
Refined and elegant portable sanitation solutions. Ideal to suit the most important days of one's life, where attention to detail is a necessity.
Sports events
Modular and luxury portable solutions for sports events of any kind. Whether outdoors or indoors, Elite restrooms always play to win.
Backstage and fashion
Chic toilets on a luxury trailer for shows and any type of backstage: video and photo shootings, events, fashion.
Business events
Polished toilets for business, trade and corporate events. Sebach Elite guarantees premium services that exceed expectations.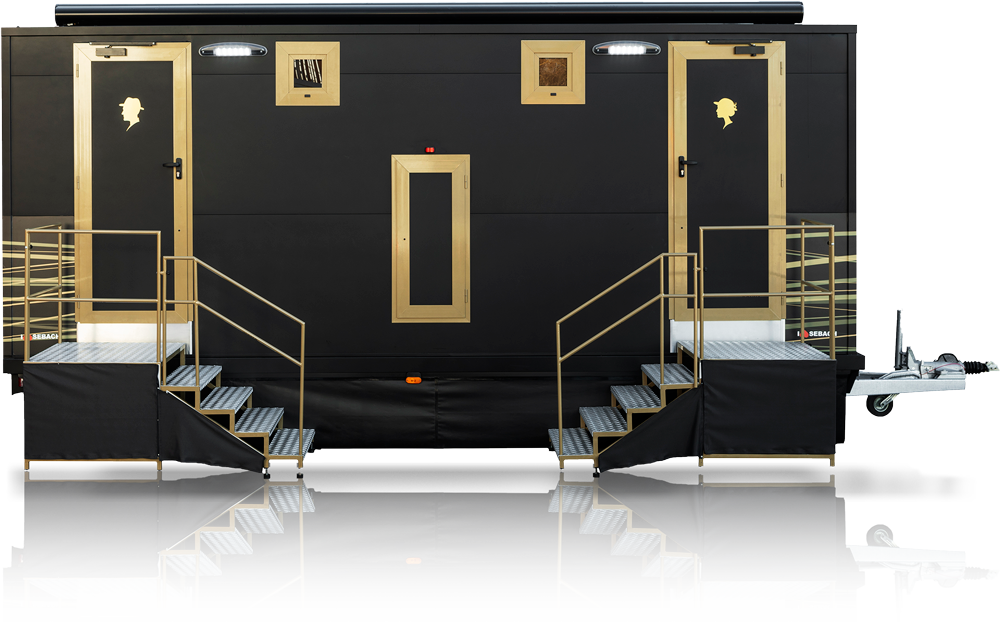 Send us an inquiry
Contact us to discover the chicest portable sanitation solution for your event and rent Elite luxury toilet.